INTRODUCTION:
By 1990, I had ridden motorcycles through every state east of the Mississippi River, Texas, Louisiana, Arkansas, and five Canadian provinces, but I wanted to do more. I wanted to explore the back roads across America, see the Isle of Man TT Races, examine everything that's foreign at a European Grand Prix, and experience the canopied forests, cascading streams, and towering mountains of Pennsylvania's state forests.
The links on the Contents Page
will take you to descriptions of CDs containing magazine articles and their accompanying photos that have appeared in American Road Racing, Backroads, Blue Ribbon Coalition Magazine, CC Motorcycle News, Cycle News, Motorcycle Times, Motorcyclist, PowerTech Quarterly, Rider, Sport Touring News, STAReview, Thumper News, Thunder Press, Turbo News, Trail Rider, Twistgrip, Winding Road Motorcycle Times, and the book Turbocharging, Supercharging, and Nitrous Oxide. Both dual sporting CDs contain roll charts, four other CDs are photo albums grouped by event or location, the remainder are compilations of magazine articles listed by title and all are there to assist you in your travels or your daydreams. These CDs are the fruits of a trial and error tree planted decades ago. The bad roads, the dead end trails, and the nasty places have been left out. What remains is a five-decade distillation of motorcycling in 38 American states, five Canadian provinces, five national forests, ten Pennsylvania state forests, and eight foreign countries. These CDs of published magazine articles with photos contain valuable information that will save you time and money and enable you to efficiently plan your own adventure while avoiding the mistakes I've made. Let each CD be a preview of your own adventures.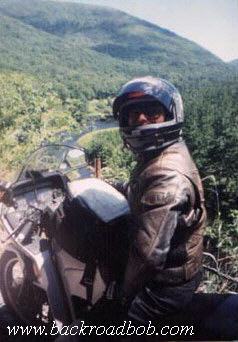 Copyright 2006-23 RHM Co. Intl.