BACKROAD BOB'S
ROAD TRIPS (PART I) - CRUISIN' AMERICA
INTRODUCTION:
Road Trips - These fourteen magazine articles with photos will take you on a trip along the best two lane roads on a half-dozen road trips covering a few ten thousand miles - the trips that make you want to turn around and ride them again. Along the way you'll encounter New England's charm, southern hospitality, the West's desolate landscapes, and the never ending two-lane roads of the mid-Atlantic states. Do you want to know where the best road trip roads are, what you'll see along them, and why each of these trips are mandatory rides for anyone calling themselves a motorcyclist? This CD shows you the best road trips from East to West and the reasons to ride each one.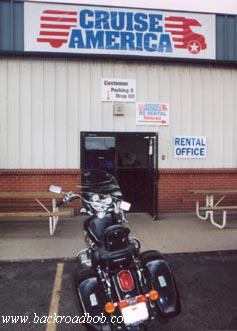 CONTENTS:
25 STATES IN 25 DAYS
LACONIA - THEN & NOW
OH! CANADA
NY 30 (AGAIN)
PA 500
PA'S TEN BEST ROADS
PIECING THE PARKWAYS
SW VA
THE GREAT WESTERN TRIP
TMIOA MEETS HSTA
TURBO RALLY IX (1999)
VINTAGE MOTORCYCLE DAYS '96
WV 7 & 9
WV'S TEN BEST ROADS
Words - 24,661


ROAD TRIPS (PART I) - CRUISIN' AMERICA
CD with 14 Magazine Articles and 212 photos
$4.99
Copyright 2006-23 RHM Co. Intl.