BACKROAD BOB'S
TURBO CHRONICLES
INTRODUCTION:
The Turbo Chronicles - These nineteen articles with photos, three dyno charts, and ET chart are gleaned from 28 years and 140,000 miles of Yamaha Turbo ownership. Installing a K&N air filter, following Team Turbo, meeting other clubs' members, reviewing all the Turbos, attending Turbo Rallies, revealing dyno truths about turbos, and sharing what's been learned from many years and even more miles of turbo ownership are some of the subjects covered on this CD.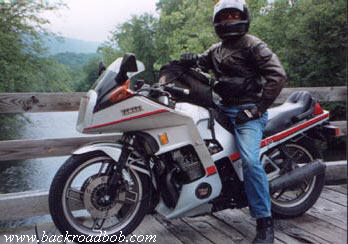 CONTENTS:
K&N
MR. TURBO
TURBO RACEBIKE
TEAM TURBO
TMIOA MEETS AMA
TMIOA MEETS HSTA
TMIOA MEETS ICOA
TURBO BIKES
TURBOS DYNO RUN CHART
TURBOS DYNO RUN CHART AND PRINTOUT
TURBOS ET CHART
TURBO RACE BIKE
TURBO RACE BIKE UPDATE
TURBO RALLY I-III (1992-1994)
TURBO RALLY XVI (2004)
TURBO RALLY XVII (2005)
YAMAHA TURBO
YAMAHA TURBO DYNO RUN CHART & EVALUATION
YAMAHA TURBO @ 50K/70K/80K/125K MILES
Words - 16,782
TURBO CHRONICLES
CD with 19 Magazine Articles, 125 photos, 3 dyno charts, and ET chart
$4.99
Copyright 2006-23 RHM Co. Intl.