BACKROAD BOB'S

MOTORCYCLE SHOWS & CLUBS
&
AMERICAN MOTORCYCLE MUSEUMS & COLLECTIONS
INTRODUCTION:
Motorcycle Shows & Clubs
These ten published magazine articles look at national, international, and AMA motorcycle shows and clubs. The four show articles tell you what you'll see at each one and what makes each one different. In addition to juried shows at each of the events, every show honors the clubs whose members support the shows. Those members are the focus of the articles examining six very different clubs. Find out before you join what makes each club unique and if it's for you.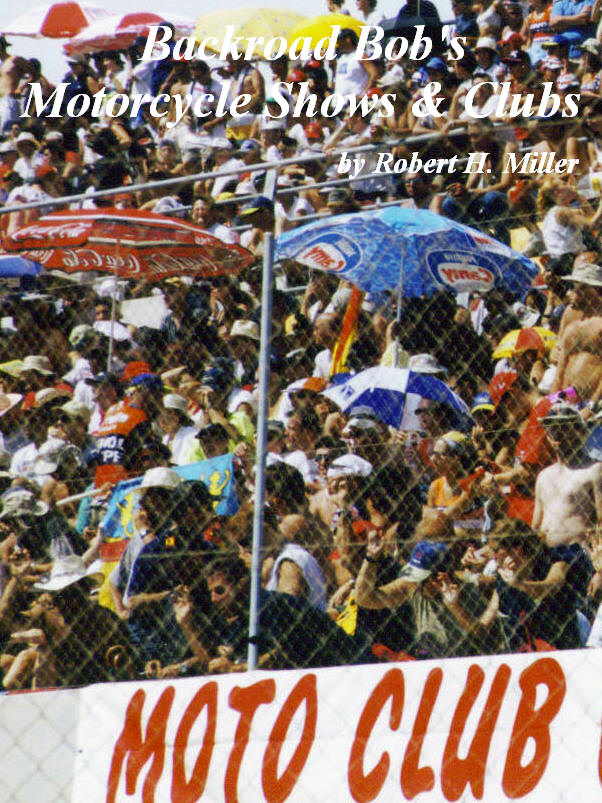 CONTENTS:
40% OFF EVERYTHING?
BIKES & BLUES
AMA-VMD 1996
CYCLE WORLD IMS 1998
CYCLE WORLD IMS 2001
HONDA FIRST (DUTCH) TURBO CLUB
HSTA
ICOA
NORTH AMERICAN SUPERSHOW
TMIOA
Words - 11,927
&
American Motorcycle Museums & Collections
These nine published magazine articles document some of the finest public museums and private collections in the United States. While traveling by motorcycle for the past forty years, I've taken every opportunity to check out museums and collections, even though I have a love/hate relationship with them. I think the best use for a motorcycle is to ride it and for me the worth of any motorcycle is measured by its odometer, not its shine. I can appreciate motorcycles as art, but let's not forget they're motorcycles not sculptures - they were meant to be ridden.
I've found the most interesting thing about museums and collections is not the motorcycles contained in them - it's the story of the people who put them together. The public museums are usually an outward expression of an individual who loves motorcycling and wants to share their passion for the sport with as many enthusiasts as possible and what's not to like about that? The private collections are usually an inward expression of an individual's desire to own the motorcycles that were unobtainable in their youth and what's not to like about that either? Keep your eyes open for opportunities to see a private collection. You never know when or where they will present themselves. At each one of these museums and collections I learned something new about motorcycles and I've been around them for fifty years. I hope they'll do the same for you.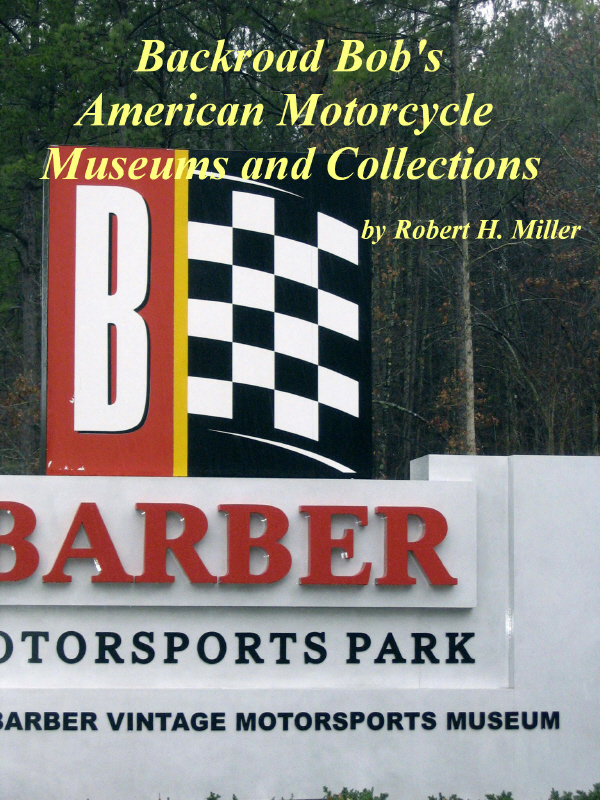 CONTENTS:
A FULL HOUSE
AMA HEADQUARTERS
BACK TO JAPAN
BARBER'S MOTORCYCLE MUSEUM
BILL'S OLD BIKE BARN
CHADD'S FORD AUCTION
LOGUE'S CLASSIC HONDA MUSEUM
MOTORCYCLEPEDIA
WHEELS THROUGH TIME MUSEUM
Words - 16,125
###
MOTORCYCLE SHOWS & CLUBS
&
AMERICAN MOTORCYCLE MUSEUMS & COLLECTIONS
Words - 28,052
CD with 19 Magazine Articles and Photos
$4.99


Copyright 2006-23 RHM Co. Intl.