BACKROAD BOB'S
PEOPLE, PLACES, & THINGS

INTRODUCTION:
People - These articles and photos examine some interesting motorcyclists and the powerful personalities that drive them.
A septagenerian's lifetime collection of rare antique motorcycles, the ultimate destination for the motorcycle collection of one of Honda's first American motorcycle dealers, a racer's motivation, an importer's formula for success, the members of the International CBX Owners' Associaiton, the inspiration for a lifetime of sport touring, and a light-hearted look at the joys of sharing are all covered here.




CONTENTS:
A FULL HOUSE
BACK TO JAPAN
DESIRE TO WIN
FAST BY FERRACI
ICOA
ORIGINAL SPORT TOURER
TURKEY PRO INVITATIONAL

Places - Are you looking for an excuse to ride? These destinations will give you one. From Ohio, to New York, to Pennsylvania here are some very good reasons for hitting the road. Articles and photos from the grand opening of the AMA's headquarters and museum, metropolitan New York City motorcyclists' favorite destination, Bear Mountain, Reading, Pennsylvania's Vintage Aircraft Museum, Lock Haven, Pennsylvania's annual power boat regatta, the finest Catskill Mountain town of Margaretville, and Philadelphia motorcyclists' most popular Sunday destination, New Hope, are all documented.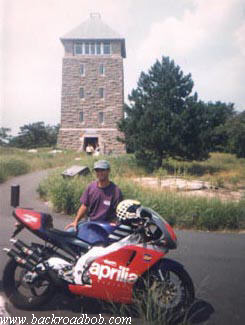 CONTENTS:
AMA HEADQUARTERS AND MUSEUM
BEAR MOUNTAIN
FLY & RIDE
LABOR DAY IN LOCK HAVEN
MARGARITAVILLE
NEW HOPE

Things - Most of these articles are about motorcycle organizations and the events they host, but others are about some of the more interesting bikes that have been constructed by individuals or produced by manufacturers. The 186 rear wheel horsepower Kawasaki Turbo (Purple Passion) and the "who knows how many?" rear wheel horsepower Suzuki Katana Turbo (Overkill) were built by very different enthusiasts sharing a common desire for one upmanship. One article is a retro-review of the 1980s turbo bikes and an evaluation of the 1982-83 Yamaha Turbo and another lists the maximum minimum required for a long weekend of sport touring your favorite roads.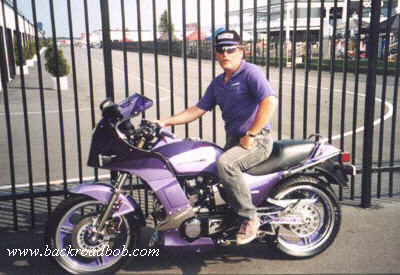 CONTENTS:
AMA VMD 1996
AMCA OLEY MEET
CHADD'S FORD AUCTION
CYCLE WORLD IMS 1998 & 2001
HD FALL FOLIAGE MEET
MAXIMUM MINIMUM
OVERKILL
PURPLE PASSION
THE NA SUPERSHOW
TURBO BIKES
YAMAHA TURBO
PEOPLE, PLACES, & THINGS - $7.49

Copyright RHM Company Intl.